Hey guys!
I have decided to start participating in the Top 5 Wednesday group. If you didn't know, Top 5 Wednesday is where you post a video or blog post covering your top 5 of the topic every Wednesday. For the goodreads group, click
here
. This week's topic is top 5 most anticipated 2015 releases.
5.
Miss Mayhem
- Rachel Hawkins (to be released April 7th)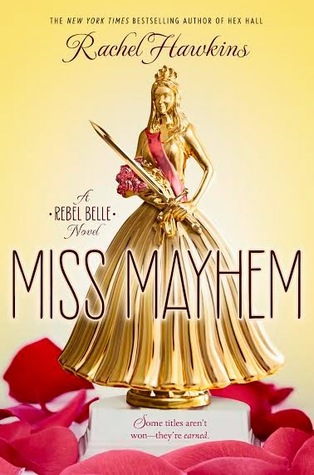 Miss Mayhem is the second installment of the Rebel Belle series. I'm so excited to read this! I loved Rebel Belle. It was really fun and exciting to read so hopefully Miss Mayhem will be the same.
4. The Sword of Summer - Rick Riordan (to be released October 7th)
The Sword of Summer is the first book of the Magnus Chase and the Gods of Asgard series. It follows Magnus Chase, a troubled kid who one day finds out he is the son of a Norse god. I love PJO and HOO so I have quite high expectations for this series. I cannot wait to read it! Hopefully Rick Riordan will amaze me once again.
3. Winter - Marissa Meyer (to be released November 24th, cover to be revealed)
Winter is the fourth and final installment of The Lunar Chronicles quartet. While I didn't think the first three books were amazing, I did enjoy them. I hope Winter will be better than the rest!
2. P.S. I Still Love You - Jenny Han (to be released June 2nd, cover to be revealed)
P.S. I Still Love You is the sequel to To All the Boys I've Loved Before. After reading To All the Boys I've Loved Before in November, I was thrilled to find out there was going to be a sequel. This first book was sweet, fluffy, and fun to read. There were a few loose ends I hope will be wrapped up in this book. Can't wait to read it!
Drum roll please!
1. Lady Midnight - Cassandra Clare (to be released September, cover to be revealed)
Lady Midnight is the first book of The Dark Artifices series. It follows Emma Carstairs, 5 years after the events in City of Heavenly Fire, when she lost her parents. In the book, Emma must race to stop a war between the Fair Folk and Nephilim by finding the murderer of several Downworlders and possibly her parents. I am so so so excited for this book! I absolutely love Cassandra Clare's other series. Her writing is amazing, as is her world building and her characters. I know this is going to be an amazing series. I'll be counting down the days! The release date got changed to March 2016 :(
I have a few more 2015 releases but these are my top 5. Thanks for reading. :)
Hana