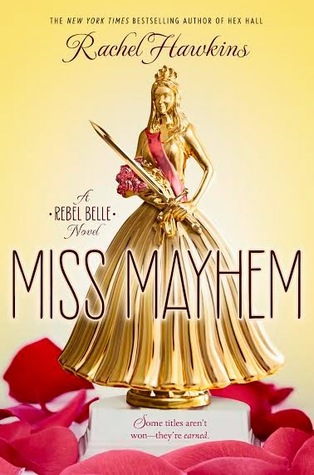 Title:
Miss Mayhem
Author:
Rachel Hawkins
Publisher:
Putnam Juvenile
Genre:
Young Adult, Fantasy
Average Goodreads Rating:
3.92/5
Miss Mayhem is the sequel to Rebel Belle. Life has gone on for Harper since Cotillion. But when her best friend Bee returns, the Ephors make another appearance and force Harper to undergo a trial that will either kill her or permanently make her a Paladin.
Miss Mayhem
wasn't the best sequel but it was pretty good. I really enjoyed reading from Harper's point of view and I love her as a character. She has a lot of personality that translates well in writing and makes the story more interesting. The book also had a great blend of
humor, romance, and badassery.
However, it could've been better. After reading
Rebel Belle
, I had high hopes for
Miss Mayhem
, so when I read it it was kind of a let down. The story seemed really out of place. Some parts didn't seem to fit into the plot and the book could have been a whole lot longer. Nothing really seemed to be happening; there wasn't a lot going on in the book. The book needed some more important events. The whole thing with the Ephors lacked content and wasn't fully developed. The ending was somewhat unsatisfying. It was a bit anti-climatic. There was just too much missing from the story. One of my favorite parts of
Rebel Belle
was the amount of badassery, which was really lacking in
Miss Mayhem
. There was more angsty teen drama than there was action and plot.
While I do think the book could have been better developed and more thought out, it was a quick and fun read and I really enjoyed. I look forward to reading the next one!