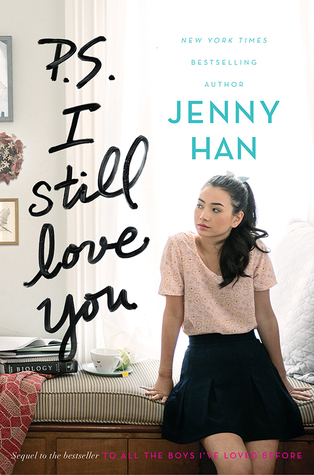 Title:
P.S. I Still Love You
Author:
Jenny Han
Series:
To All The Boys I've Loved Before #2
Publisher:
Simon & Schuster
Genre:
Young Adult, Contemporary, Romance, Chick-Lit
Average Goodreads Rating:
4.3/5
From Goodreads: Lara Jean didn't expect to really fall for Peter. She and Peter were just pretending. Except suddenly they weren't. Now Lara Jean is more confused than ever. When another boy from her past returns to her life, Lara Jean's feelings for him return too. Can a girl be in love with two boys at once?
I really loved To All The Boys I've Loved Before (review here), so P.S. I Still Love You was underwhelming and a disappointment. What I loved in the first book was missing. There was less humor and the romance
wasn't very interesting. In the first book I really enjoyed reading about the sisters' bond but this time the story focused more on the love triangle and the romance.
Lara Jean was very childish throughout out the novel. I kept waiting for her to grow up and go through some character development but she never did. She stayed her childish, petty self. On the topic of characters, I didn't like Peter either. He was a really fun, cute character in the last book while in this book he was the stereotypical "popular jock". There was nothing unique about him.
I never understood the connection between Lara Jean and Peter. Even in TAtBILB I didn't think they had any chemistry but I still though they were cute. In PSISLY their relationship didn't make sense. They didn't communicate and weren't a good couple. The addition of the love triangle was pointless. It didn't add anything but unnecessary drama to the story. The way Lara Jean handled the love triangle was irritating as well.
While I did have quite a few problems with the novel, I did enjoy it. I like the tone of the books and how they're not stereotypical, cliche chick-lit. The books have a personality which I really enjoy. This novel also continuously discussed sexism and double standards which was a great addition.
I love this series, however, if you haven't read any of the books yet I'd recommend just reading the first book.