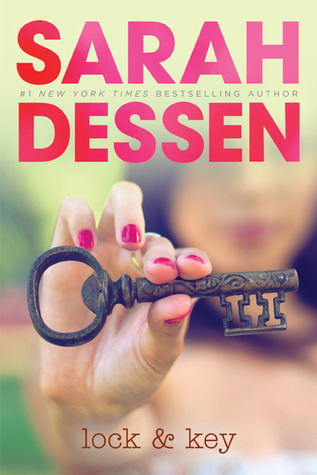 Title:
Lock and Key
Author:
Sarah Dessen
Genre:
Young Adult, Contemporary, Romance, Realistic Fiction
Average Goodreads Rating:
4.02/5
From Goodreads: Unlock your heart and the
rest
will follow. Ruby is used to taking care of herself. But now that she's living with her sister, she's got her own room, she's going to a good school, and her future looks bright. Plus there's an adorable boy next door. Can Ruby learn to open her heart and let him in?
This wasn't my favorite Dessen novel but it was enjoyable nevertheless. I really enjoyed how it focused on familial relationship rather than the romance. A lot of YA novels tend to ignore the family but Lock and Key
successfully made the family an important part of the plot. I loved the amount of growth Ruby went through as a person. She overcame her flaws and changed so much from the start of the book.
While I did enjoy the book, I did have a few problems. Nate, the love interest, was a very two-dimensional, "perfect" person. I didn't feel anything for him when, considering his situation, I should have. Nate and Ruby's relationship didn't seem right either. I didn't understand why they became a couple. They didn't have much of a connection. On the topic of characters, I couldn't connect with Ruby. She was a boring protagonist. In the novel there were a lot of stereotypes played out including the "I'm not like other girls" trope. Throughout the book Ruby kept on stating how she's "different" and "not like other girls" which irritated me. There's nothing wrong with being similar to the "other girls". Being different shouldn't be a big deal and is overplayed.
Another problem I had was that the themes were pushed too far and over the top. The theme of family was taken too far as Ruby had a literal school project about the meaning of family. This theme is explored throughout the novel but was overdone.
I liked the book
but the climax was too short and easily resolved. There wasn't much conflict and it was very unsatisfying.
Lock and Key was an enjoyable read but it definitely wasn't perfect.